Adventist Community Church
December 27, 2021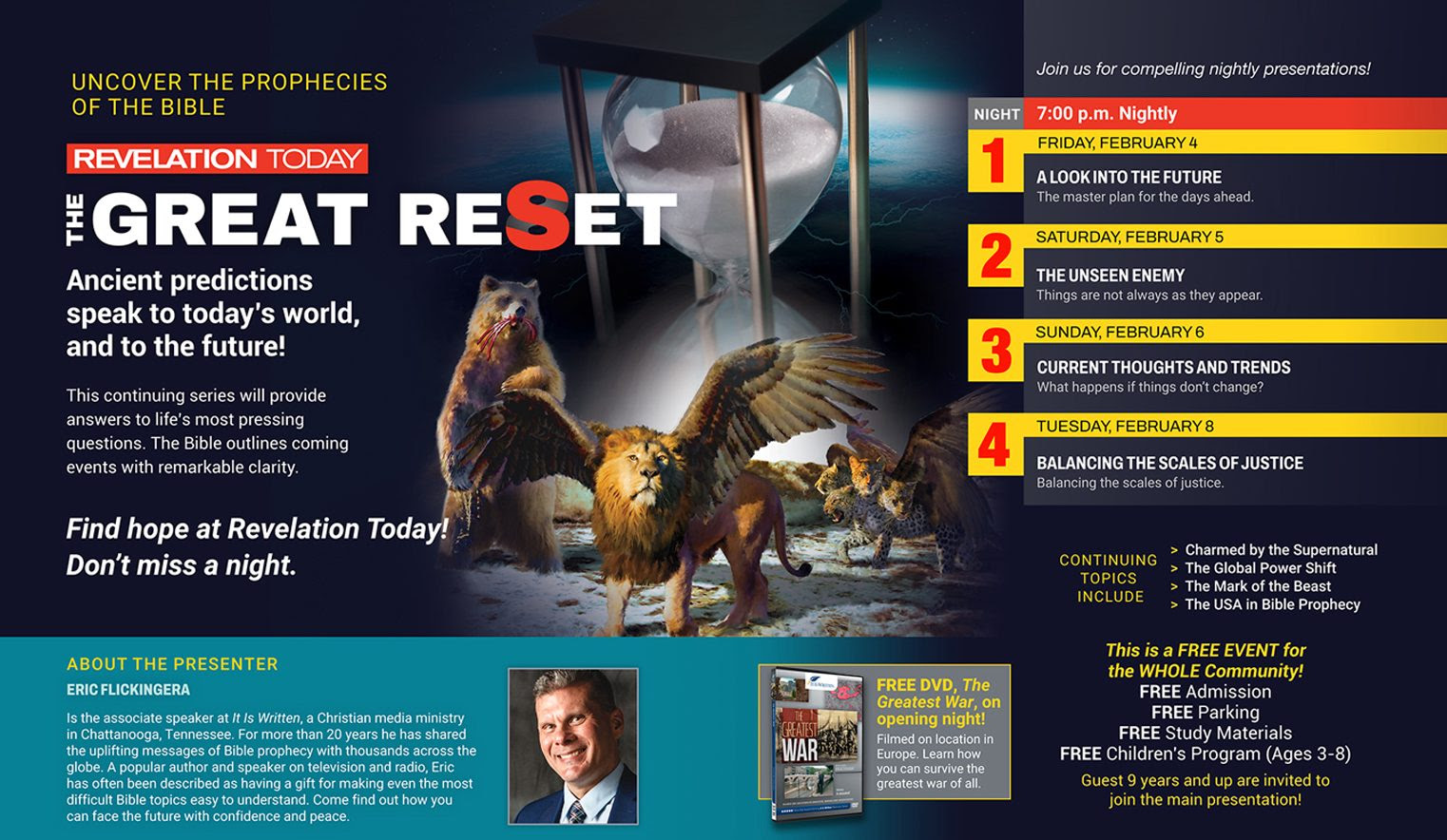 From Pastor Roger:
The seminar with Eric Flickinger (and with John Bradshaw in Portland) begins in just 6 weeks. If you are interested in volunteering for the seminar, please let one of the pastors know or email to the church office: office@AdventistCommunity.church.
Please be praying for this seminar. This is one of the biggest named speakers we have ever brought into our church. We've also increased our mailing to be the largest we've ever mailed out. We are praying that people will find the Lord. We are praying for the Holy Spirit to shine down and enter the preparations and enter the work we are called to do. Please begin praying
Also, at this time of year, if you are in need of some help, please let the church office know. We want to help. office@AdventistCommunity.church
I love being your pastor!
roger Walter
leadpastor
www.AdventistCommunity.Church
Church Survey
Pastor Ryan is leading a team of all ages, trying to help us grow a younger church. Would you take 10 minutes and fill out this survey?
Make a Difference
Your Year-End giving makes a huge difference in what happens at this church. Your giving helps us fund the mission and vision of this church to reach people in worship, in evangelism and in discipleship. Your giving season is coming to a close.
To count for the 2021 tax-deductible giving receipt, tithes/offerings must be:
– Turned in to the offering box on Sabbath, December 25th.
– Received in the church office before closing .. whichever day of the week is the last day of December someone is definitely here. Based solely on the volunteers' schedules, that would be 4 pm on Wednesday.
– Received online via AdventistGiving, VenMo, PayPal, etc by midnight on December 31st.
– POSTMARKED December 31st.
Annual First Friday Communion Service
At 6:30pm, on January 7, we will begin to celebrate our annual First Friday Communion Service. You are invited. There will be a soup, bread and fruit meal, followed by a communion service with the real grape juice and the real communion crackers (rather than the self-contained cups we've used during the pandemic).
Plan to come. You can also sign up to bring something by clicking the link below – We still need some fruit, communion crackers, and grape juice:
Keep Up on Facebook!

You can keep on Facebook if you login and go there. We try to keep all upcoming events updated there and all videos get posted there. Keep up! Give us a thumbs up or follow us too!
Support Ministry
Your support of the ministries of this church is important and much appreciated. Many good things have happened in people's lives because of this church. Thank you for helping!
You can easily give at one of these places here (click below) or you can give electronically, with cash or check when you are at the church at one of our giving kiosks.
10:00-11:00am

Pretty much ALL Classes are going again. Kids begin in the Fellowship Hall, the Young Adults are moving to the Board Room. There is one class that is moving into the Worship Center.
Mask Up
I know…. nobody likes them. But if your wearing a mask can help someone else feel safer, isn't that doing the right thing? Help everyone around you feel safe and stay safe yourselves..
Upcoming
Mondays – – 6:45 pm – Women's Prayer Group each Monday evening.
Tuesdays – 6:30pm – Youth Game Night this week
Tuesdays – 7:00pm – Men's Group in the Board Room
Wednesdays – 6:30 pm – Revelation Class with Dan Weston, Ryan and John this week.
Thursdays – 6:30pm – Pathfinders (Beginning again in January)
Sabbath – 9am/11:15 am – Speaker Roger Walter
Sabbath – 10:00am – Family Sabbath School, Adult Sabbath Schools, Kids' Sab. Schools, check out the link above for more information.
January 7 – 6:30 pm – Our Annual First Friday Communion Service
Call to Pray!

You can join easily, just pick up your phone and dial the number 360.552.7004 any day of the week at 6am or 7am. Simply click the picture to dial. It's only 1/2 hour long.
Get the Church App by Clicking Below! Don't Miss Out!
Copyright (C) 2021 Adventist Community Church. All rights reserved.
You are receiving this email because you opted in via our website.
Our mailing address is:
Adventist Community Church
9711 NE St. Johns Rd
Vancouver, WA 98665
Want to change how you receive these emails?
You can update your preferences or unsubscribe