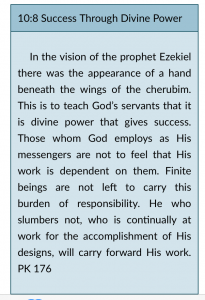 In our fall REACH-OUT we are planning on doing Bible studies. We currently have 30 people signed up to help. However, I don't believe this is dependent on those 30 people. We are called to serve. We are called to work. We are called to do mission. We are calling for even more people to be involved with the REACH-OUT and help give Bible studies.
However, this is not dependent upon the people involved in giving Bible studies. We are dependent upon God's power – the Holy Spirit's power – to open doors, to empower people, and to make it all happen. It's partly why I called for a 40 days of prayer. Even though God calls us to serve and bring Him glory, we have to go forward on our knees. It's the only way, the only path.
You can still get involved in our Bible Study REACH-OUT by clicking here, but more than that, please join with us for prayer.
Pray for our nation
Pray for the Holy Spirit to work on our city
Pray for an opening in people's minds when they see the advertising
Pray for workers to do the work of giving the Bible studies.
This isn't about knowing everything to say to people. This isn't about making sure everything is perfect or that you have all the answers. This is about God's power working on people for the KINGDOM! God doesn't slumber and continually at work. Let's just join Him in His work.